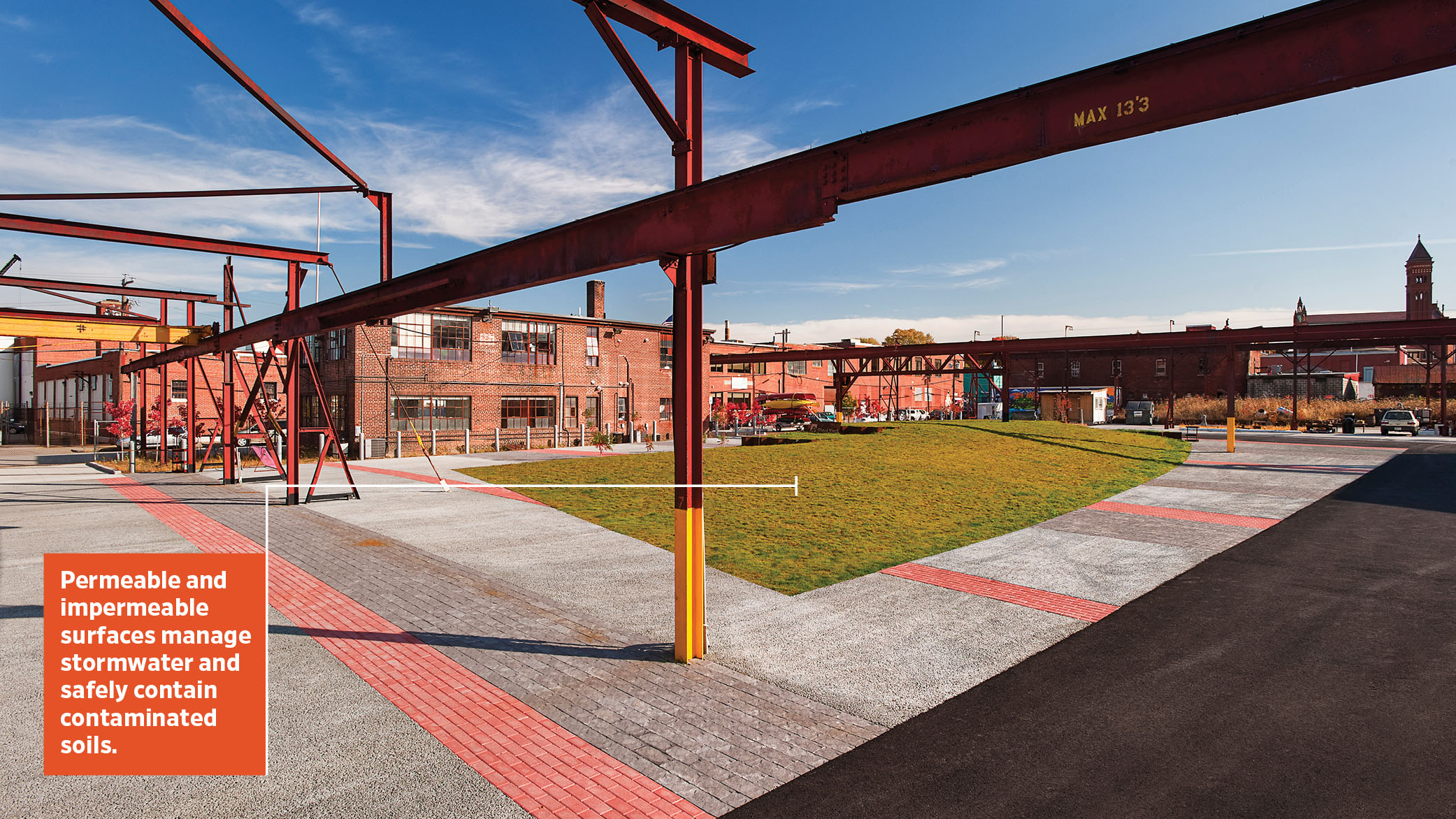 Community Development
The Steel Yard
On a lead-contaminated brownfield, a shuttered steel and iron plant is now the Steel Yard, a new space for community artists, industrial arts education, workforce training, small-scale manufacturing, and community events in one of Providence's oldest low-income neighborhoods. Klopfer Martin Design Group wove a "carpet," a mixture of permeable and impermeable pavement, on top of the contaminated soil to minimize disruption and prevent polluted stormwater from leaching into the local watershed. Planted "moats" around the perimeter capture stormwater. The site was transformed into a community asset—a creative space that prevents as much as 90 percent of stormwater from entering the city's sewers, stops unhealthy lead contamination from spreading, and provides a measure of environmental justice to an underprivileged area.
Background:
When Olneyville's Providence Steel and Iron went out of business in 2001, the property was purchased by Nick Bauta and Clay Rockefeller, who formed a nonprofit called the Steel Yard. The new owners believed that, rather than demolishing the existing structures, the property should be repurposed as a community space for local artists, while providing a model for sustainable redevelopment.
The site was classified as a brownfield because of lead paint. Highly contaminated soil was extracted as required by environmental remediation standards. The remaining contaminated soil was treated with a binder to reduce soil disturbance. A cap of 12 inches of clean fill or pavement was then used across the entire site.
Since the park is part of the Narragansett Bay watershed, storing and filtering stormwater locally was a priority. Through a system of bioswales and permeable surfaces, the new Steel Yard infiltrates 90 percent of annual rainfall, eliminating the need for a new connection to the community's sewers.
To sustainably manage stormwater while also ensuring that contaminated soil did not leach into the neighborhood, Klopfer Martin Design Group needed to build a series of "moats" that direct infiltration and control the volume of stormwater being held. These moats are found at the edge of the paved "carpet." They are filled with water-loving plants that filter stormwater and prevent erosion.
Native pioneer and volunteer species were introduced across the Steel Yard with the expectation that they would recolonize the industrial site while also preserving the previously abandoned site's gritty look and feel.
Demonstrates these solutions:
At street level, reduce paved areas and maximize incorporation of trees and vegetation supported by healthy soils, including bioswales and rain gardens.
Maximize use of porous pavement technologies to support natural hydrology.
Preserve existing open space and parkland in community and regional planning. Recapture part or all of abandoned brownfield and grayfield sites for green/open space.
Protect, expand, and/or restore natural systems, including wetlands and adjacent upland areas, that provide buffers along coastlines and inland waterways.
Include reuse/redevelopment of brownfields and grayfields in smart growth plans.