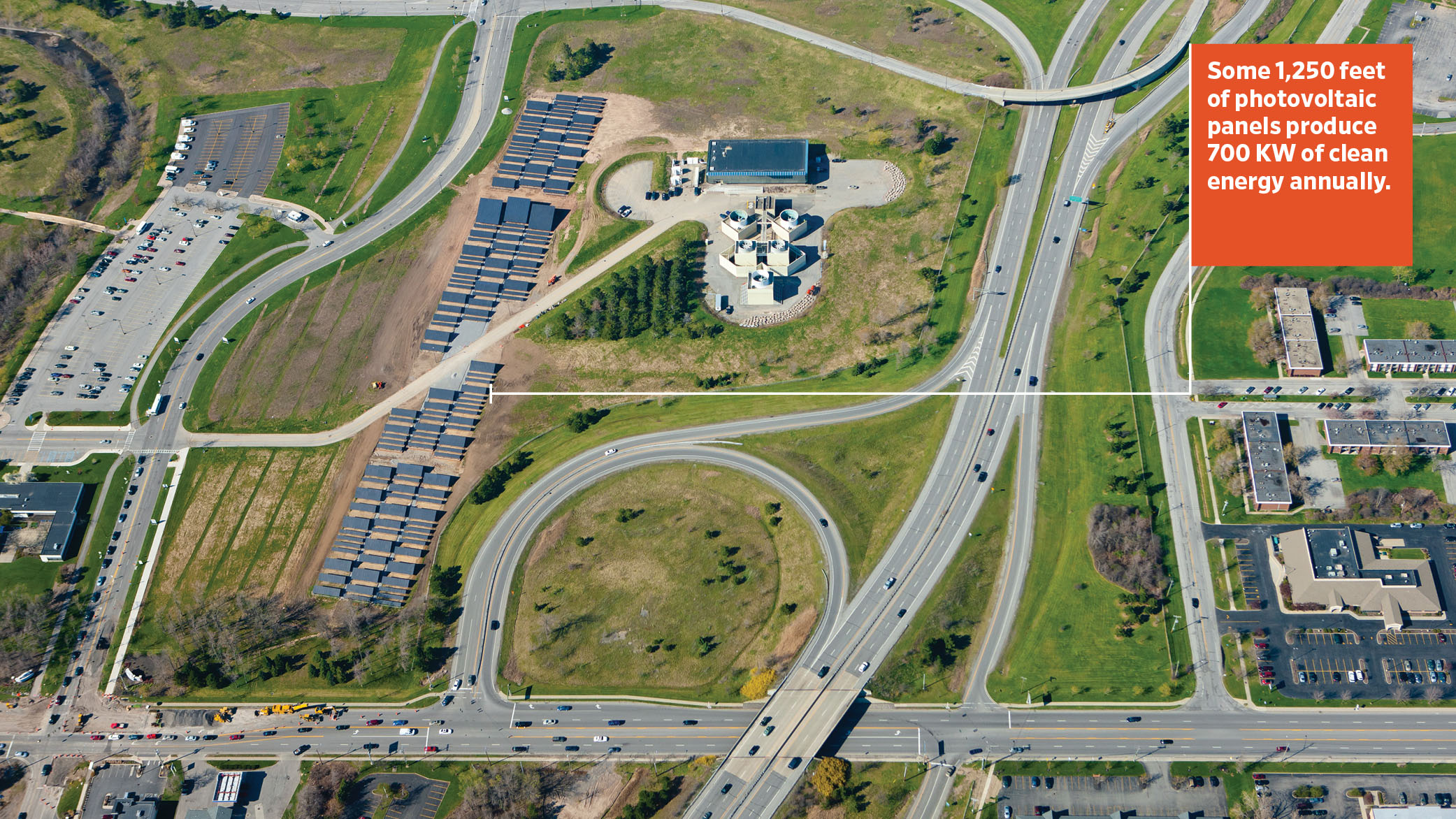 Community Development
Solar Strand
A quarter-mile-long array of photovoltaic panels winds through the campus of the University at Buffalo, generating 750 kilowatts of renewable energy, enough to power 700 on-campus apartments. Solar Strand, created by Hood Design Studio, saves $100,000 in electricity costs and means 400 fewer tons of greenhouse gas emissions enter the atmosphere each year. Students use pathways to walk right up to the solar panels nestled in regenerated wetlands and meadows and use open spaces as classrooms to learn about the potential of renewable energy.
Background:
In 2007, the University at Buffalo committed to an ambitious plan to become carbon neutral by 2030. Because of this, the New York Power Authority (NYPA) approached the University at Buffalo about creating a solar installation on its campus. NYPA proposed a power facility protected by a chain-link fence, but the university envisioned a 15-acre solar power installation that was highly visible, beautiful, and connected to the community. They initiated an international design competition for the $7.5 million project, which Hood Design Studio won with its Solar Strand design.
Because the University at Buffalo is a major public research university, Walter Hood, ASLA, and his firm wanted to integrate scientific concepts into the design of the array. They modeled 3,200 photovoltaic panels into a 140-foot-wide, 1,250-foot-long DNA strand formation.
Hood Design Studio also wanted to make the array highly visible. Visitors enter the north campus on a road flanked by the array, which sends a public signal about the importance of science and renewable energy to our future.
Solar Strand was intentionally designed to be an accessible community and educational space. The landscape invites college students, members of the community, and local elementary, middle, and high school students into the installation. Walkways take visitors right up to the panels, which vary in height from four feet to 28 feet. The lower panels can be touched, while the taller panels create a powerful visual impact. In the midst of the panels, the public spaces, which function as classrooms, are made up of concrete slabs recycled from old sidewalks. Restored wetlands and expansive meadows surround the entire installation, creating a new harmony between renewable power and nature.
Demonstrates these solutions:
Incorporate clean energy and energy efficiency solutions in local and regional planning.
Protect, expand, and/or restore natural systems, including wetlands and adjacent upland areas, that provide buffers along coastlines and inland waterways.