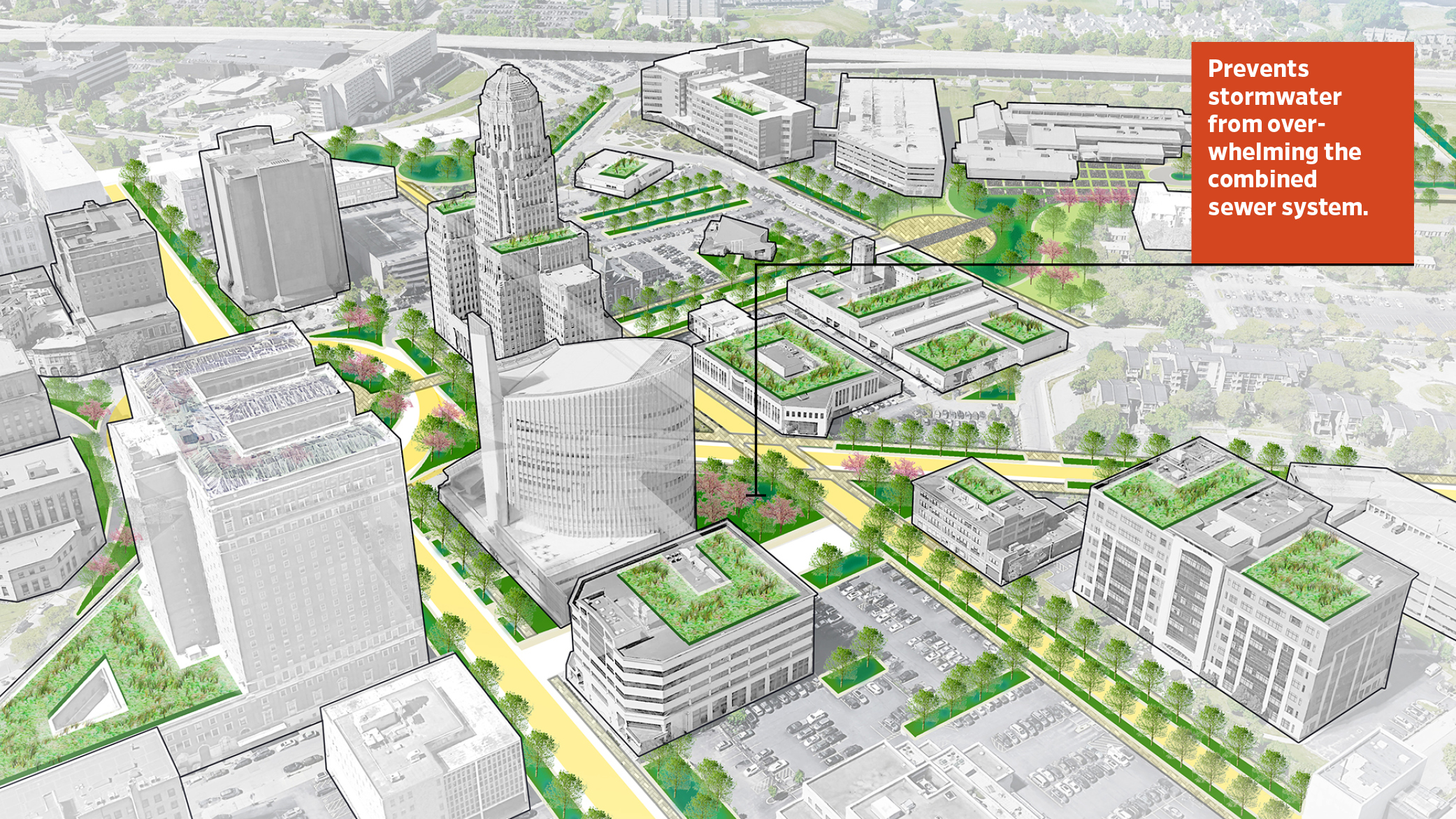 Natural Systems
Rain Check 2.0
Combined sewer systems, which carry both sewage from buildings and stormwater from streets, often overflow during heavy rains, causing untreated sewage to enter water bodies. To reduce 1.75 billion gallons of annual combined sewer overflows from discharging into the Niagara River and its tributaries, the Buffalo Sewer Authority (BSA) in Buffalo, New York, created a stormwater management plan that invests $385 million in infrastructure upgrades, including $93 million for green infrastructure, over 20 years. After the initial successes of BSA's Rain Check program, which invests in green infrastructure on city-owned land, the BSA announced Rain Check 2.0, a program led by landscape architects that includes grants to private landowners to capture stormwater through trees, rain gardens, green roofs and streets.
Background:
Since launching Rain Check in 2015, the BSA has installed hundreds of acres of green infrastructure throughout Buffalo, keeping millions of gallons of stormwater out of water bodies annually. Green infrastructure improvements include green streets, green roofs, rain gardens, stormwater planters, pervious pavers, and porous asphalt. To date, BSA has transformed over 9 miles of city-owned streets, hundreds of green demolition sites, and several community parking lot retrofits.
With Rain Check 2.0, the BSA expanded the program to include private property owners. According to Kevin Meindl, ASLA, the landscape architect leading the green infrastructure program at BSA, Rain Check 2.0 will incentivize property owners to transform impervious surfaces into pervious ones through grants calculated based on square footage of impervious surfaces. The BSA has set aside a few million to give as grants for green infrastructure improvements.
The BSA outlines the rationale for the program: "high performance green infrastructure landscapes not only benefit water quality, but also bring a wide range of co-benefits that include reducing air pollution, improving property values, reducing energy usage through the ability of vegetation to regulate urban temperatures, and increasing the walkability and experiential qualities of the built environment. Green Infrastructure also provides the justification for community investment to address inequality."
After conducting a year-long analysis, the BSA released the Rain Check 2.0 Opportunity Report, which identifies six priority combined sewer overflow basins within the city. Five of the six basins are located in historically marginalized and underserved communities.
Meindl explained that the basins were explored with an equity analysis that included seven different socio-economic factors and nine built-environment factors. In all six priority basins, the BSA then investigated more than 450 sites for green infrastructure improvements. Each site was analyzed through GIS and then assessed in person.
The BSA has created multiple tiers of grant funding for green infrastructure. Simply replacing asphalt with pervious pavers or asphalt is the lowest tier level and receives the smallest grant amount per square foot. To incentivize the addition of vegetation that offers multiple co-benefits, BSA provides a higher amount of funds for plants integrated into green infrastructure. The BSA is also incentivizing projects that go further to meet the flooding threat caused by climate change. Projects that capture 1.5 inches of stormwater over 24 hours, instead of the standard 0.9 inches, will receive extra funding.
To remove barriers to participation, the BSA is exploring ways to offer design-build services to private property owners so they do not have to finance the project upfront themselves and wait for reimbursement.
In addition, the BSA is requiring all new developments in Buffalo to incorporate green infrastructure to manage stormwater on-site. To expand its capacity to develop projects within the city, the BSA will be expanding its workforce, hiring 40-50 people from areas that have high unemployment and poverty rates.
It's worth noting that the BSA is the lead agency within the city for addressing climate change. Its Rain Check 2.0 program is one of the most important efforts for managing the increased flooding expected with climate change. According to Buffalo Mayor Byron W. Brown, "green Infrastructure is an opportunity to invest in our neighborhoods, increase employment and economic prospects for our citizens, and directly address climate change through projects that involve mitigation, adaptation, and the overall resilience of our city."
Demonstrates these solutions:
Provide dedicated funding for green stormwater infrastructure.
Require new development to retain stormwater on site.
Prioritize retention and expansion of green space; address inequities in access to open space and recreation.