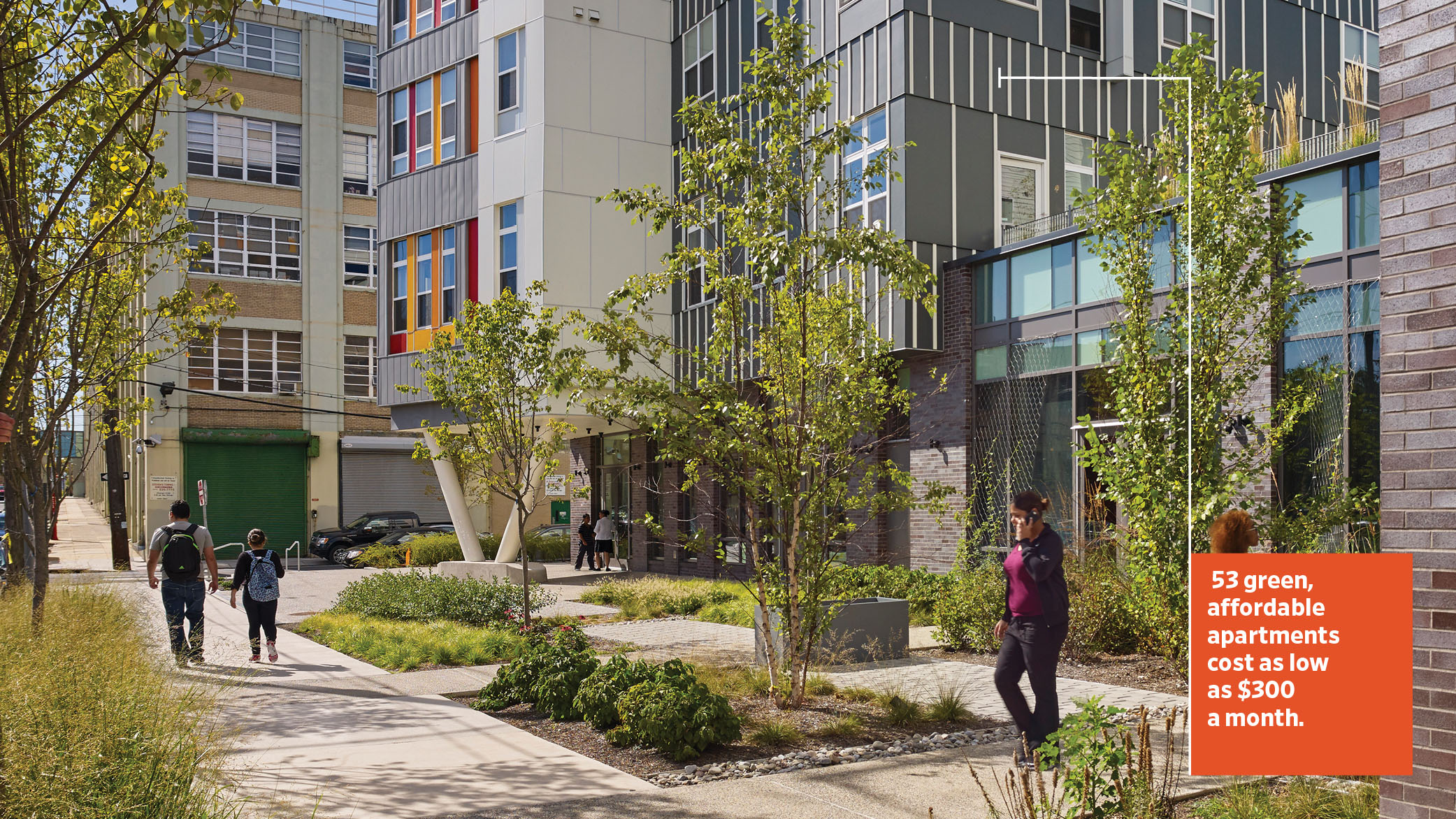 Community Development
Paseo Verde
Philadelphia, Pennsylvania |
WRT
In ethnically diverse North Philadelphia, there is a lack of affordable, sustainable housing. Paseo Verde, a multifamily housing complex, offers 53 green housing units for low- and moderate-income residents, right next to the elevated Temple University station on Philadelphia's regional rail system. The first project to receive the LEED for Neighborhood Development platinum certification, the 1.9-acre Paseo Verde development features green and blue roofs, a stormwater infiltration basin under its parking garage, and surrounding green streets, which together can capture and retain 386,000 gallons of stormwater. The Asociación Puertorriqueños en Marcha, or Association of Puerto Ricans on the March (APM), partnered with Jonathan Rose Companies to develop the model sustainable residential complex, which was designed by an interdisciplinary team of urban designers, landscape architects, and architects at WRT.
Background:
APM was formed in 1971 by Puerto Rican veterans who returned from the Vietnam War and "discovered their own community was in need." Since 1989, APM has built 163 housing units and 215 rental apartments, which they have used to help hundreds of families become credit worthy and better prepared for the next move.
Paseo Verde partnered with Jonathan Rose Companies, a developer with experience creating affordable and sustainable housing. Piecing together $47 million in public and private financing, APM and Jonathan Rose Companies developed the 120-unit Paseo Verde, with 67 market-rate one- and two-bedroom apartments and 53 apartments for families earning an annual income below $68,000, who can pay as low as $300 in monthly rent.
Paseo Verde provides easy access to multiple low-cost transportation options. The development is located right next to the elevated Temple University station on Philadelphia's regional rail system, which residents can use to get to work in downtown Philadelphia, two miles south. There is also a dedicated bicycle storage area and car share parking.
Given Paseo Verde was built in a local flood area, WRT created an integrated system of blue and green roofs; a landscaped, tree-covered courtyard; and surrounding green streets. These systems convey and capture stormwater, with any excess directed to an infiltration basin built under the underground parking garage. The entire site can capture and retain up to 100,000 gallons of stormwater.
Rooftop solar panels produce 40 kilowatts of power. Residential garden plots, community rooms, fitness and technology centers, and a health clinic further support the health and well-being of residents.
Demonstrates these solutions:
Plan and design using smart growth approaches to decrease energy use and promote resilience.
Include reuse/redevelopment of brownfields and grayfields in smart growth plans.
Incorporate clean energy and energy efficiency solutions in local and regional planning.