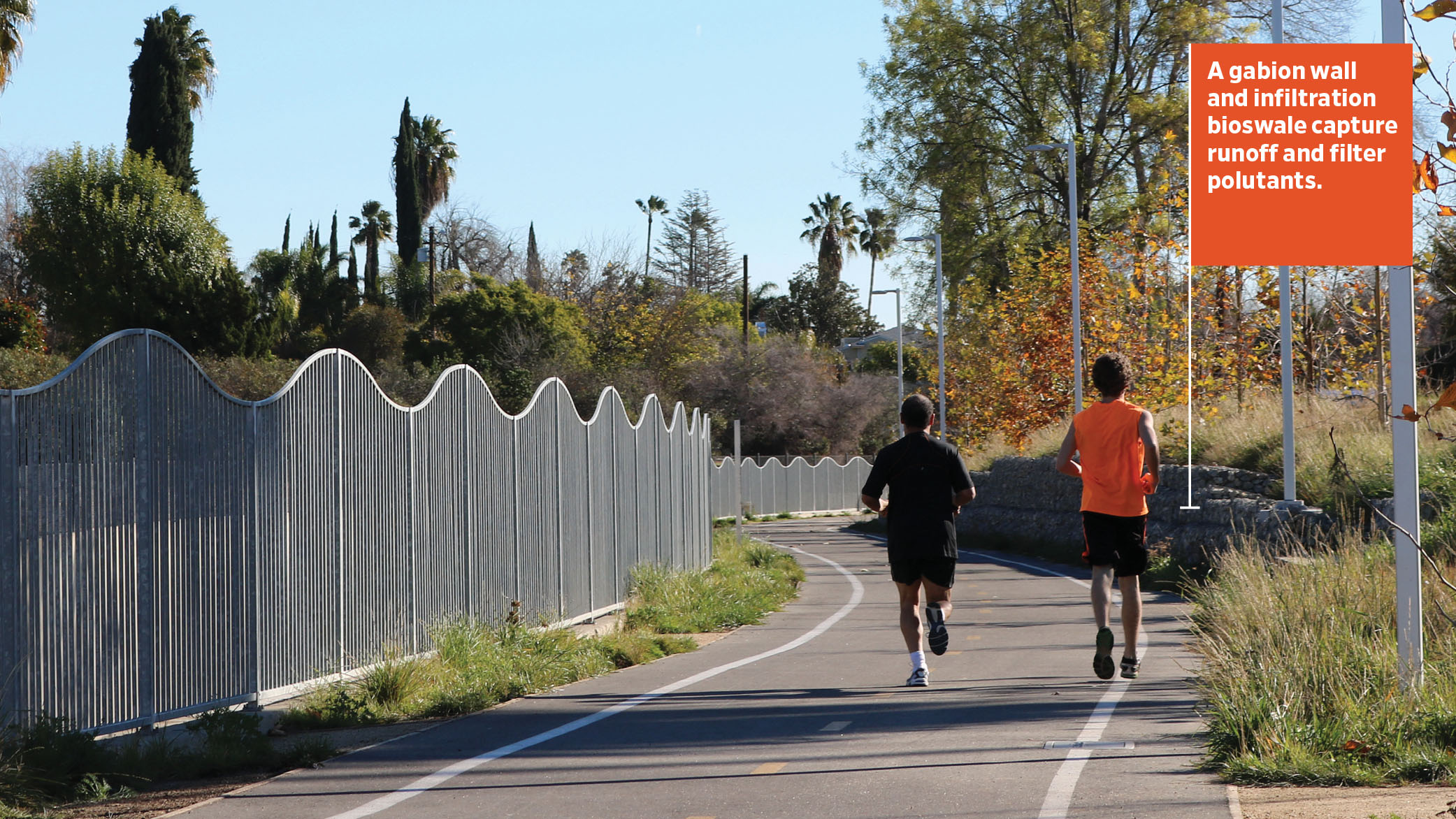 Transportation
Los Angeles Riverfront Greenway Phase II
Landscape architecture firm Studio-MLA was brought in to transform a muddy, often-flooded, maintenance-only road that was closed to the public into a half-mile, multipurpose linear park that strengthens the sense of place, opens the river to the community, supports ecological processes, and connects a neighborhood disrupted by freeways. A gabion wall allows stormwater to flow through into an infiltration bioswale, filtering out pollution and controlling flooding. One hundred carbon-sequestering and shade-giving native trees, including California sycamores, Fremont cottonwood, and coastal live oaks, were planted to make the park more sustainable and resilient. Today, the park simultaneously hosts moments of nature, recreation, and urbanity.
Background:
In the early 2000s, Los Angeles sought to create a continuous recreational greenway along the 51-mile stretch of the Los Angeles River that connects 13 cities and numerous neighborhoods. The goals were to provide a safe and efficient route for recreation or active transportation separated from vehicle traffic; improve quality of life and health; achieve equity in access to green spaces; and do it all in an environmentally sustainable way.
Before construction, surface runoff flowed untreated over the road, creating muddy, flooded conditions that required constant upkeep and polluted the Los Angeles River.
The park now contains a bike pathway that connects two pre-existing paths on either end, creating a continuous route for cyclists. Informative signage, bicycle racks, and drinking fountains improve accessibility.
A gabion retaining wall and infiltration bioswale capture runoff from the neighboring streets as well as the trail, filtering out pollutants and providing an opportunity for groundwater recharge.
The path is surrounded by more than 100 carbon-sequestering and shade-giving native trees, including California sycamores, Fremont cottonwood, and coastal live oaks. These plants use less water than previous vegetation, with the eventual goal of requiring no artificial watering. The native plant palette provides important biohabitat, improves air quality, and increases environmental and community health.
Demonstrates these solutions:
Proactively addresses equitable access to transportation options, recreation, and open space.
Maximizes incorporation of trees and vegetation supported by healthy soils, including bioswales and rain gardens.
Enhances tree canopy.
Follows best practices for planting and maintenance of all trees and vegetation.
Restores natural systems.
Uses biohabitat-supporting and pollinator-friendly native plant species appropriate to the region and changing climate conditions.
Prioritizes vegetation species that are more likely to withstand potential climate changes, including drought.