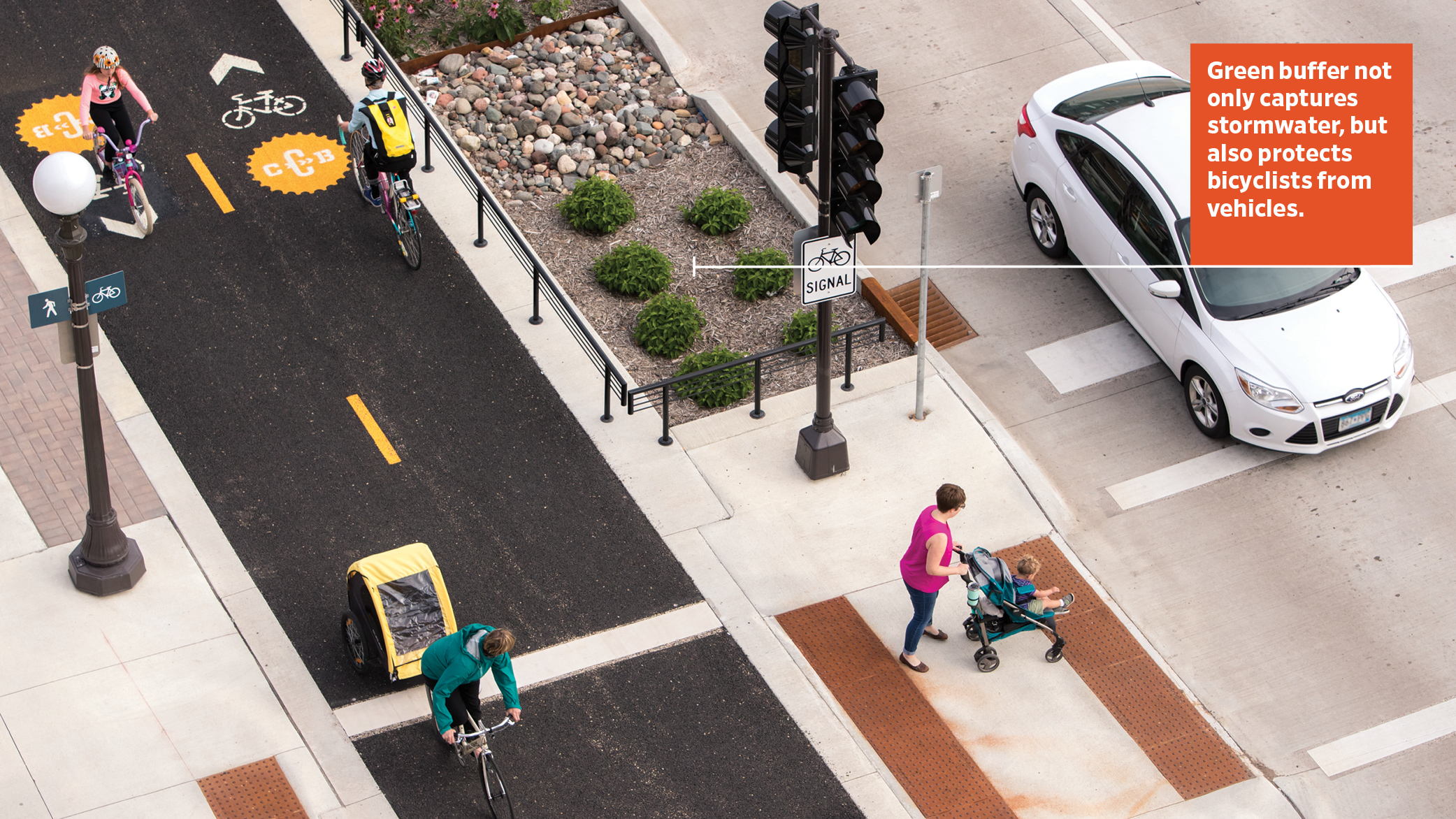 Transportation
Jackson Street Reconstruction Project
Outdated Jackson Street in downtown Saint Paul, Minnesota, was last reconstructed more than half a century ago. Toole Design transformed the avenue by incorporating an all-ages, all-abilities bikeway, creating a truly multimodal corridor. It features a 12-foot-wide, two-way, grade-separated bikeway, partitioned from motor vehicles by low rails and green buffers, which makes transportation easier and safer for people walking, bicycling, and driving. The surface of the bikeway is porous asphalt, which helps with stormwater management as well as bikeway maintenance and rideability in winter months. Redesigned, safe intersections make people walking and biking more visible to turning motor vehicle drivers.
Background:
In 2016, the city announced the nine-block stretch of Jackson Street would be reconstructed as the first corridor in Saint Paul's Capital City Bikeway, a planned network of downtown streets designed to be truly multimodal. The goal was to make Jackson Street a complete street that would make downtown Saint Paul a more vibrant place to live, work, and shop.
The two-way, protected bike lane and wider pedestrian walkways are separated from the roadway by low rails and green buffers, making transportation easier and safer for people walking, bicycling, and driving. The green buffers are linear bioretention trenches, which not only separate bicyclists from motor vehicle traffic but also capture stormwater.
Preventing flooding into downtown buildings through better stormwater management was a key goal. In addition to the buffers, the bikeway surface was constructed using porous asphalt, which allows water to seep through the surface and soak into the ground below. The innovative surface reduces stormwater runoff, keeps the trail and surrounding area from flooding in heavy storms, and more effectively directs stormwater into the municipal storm sewer system.
Demonstrates these solutions:
Uses complete streets principles to provide safe, connected, and convenient pedestrian and bicycle routes, including routes that connect to rail and bus routes.
Incorporates green infrastructure in transportation projects.
Stresses equity and connectivity in transportation planning, including equitable access to rail, transit, and dedicated bicycle commuting options.