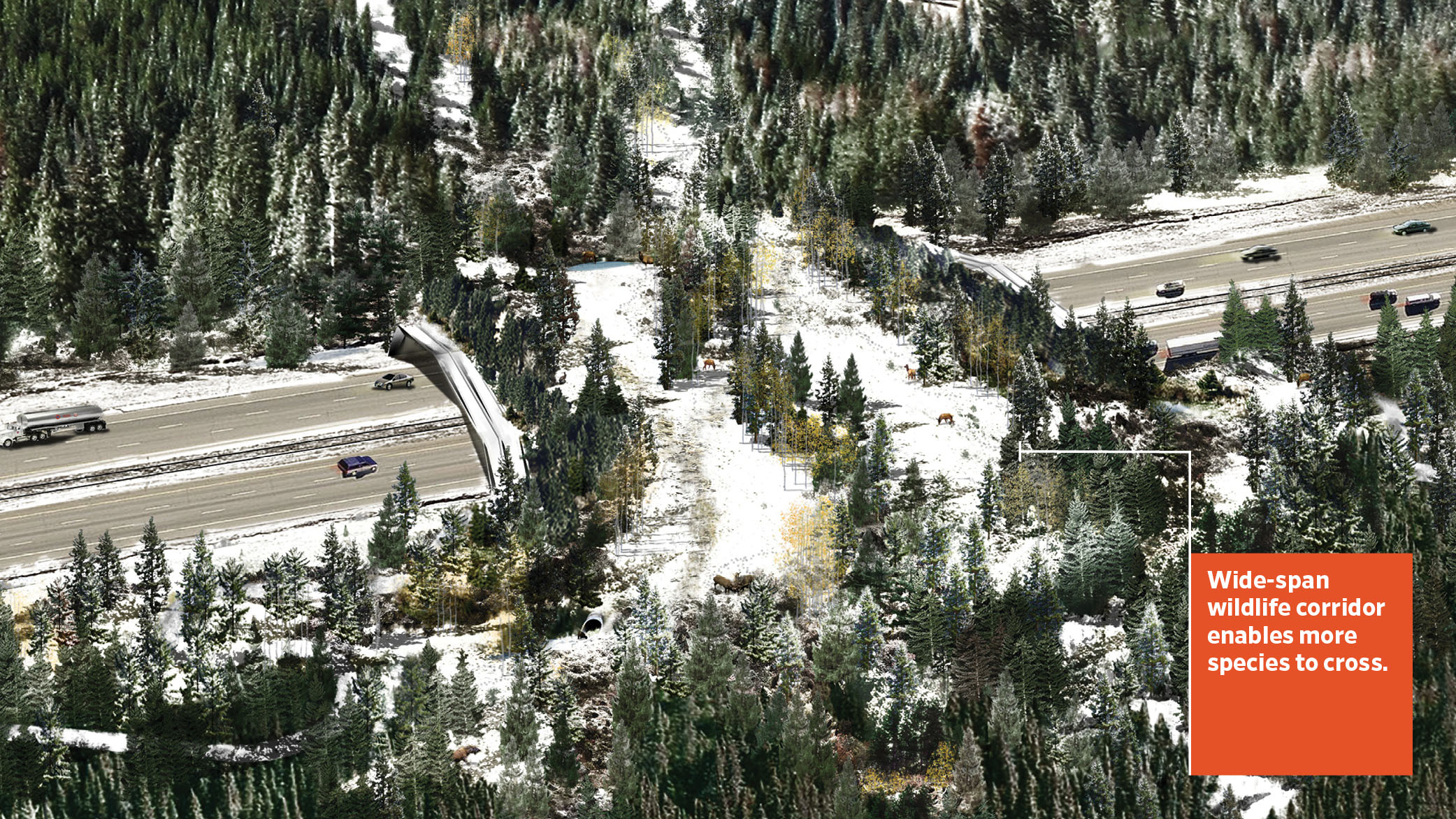 Natural Systems
'Hypar-nature' Wildlife Bridge
Roadways can split apart wildlife habitats, break down natural systems, and put the lives of humans and wildlife at risk. One to two million wildlife-vehicle collisions occur in the United States each year, causing $8 billion in accident-related damages. Collisions with deer claim the lives of 200 people each year. To create a low-cost model for improving the safety of people and wildlife and reconnect fragmented wildlife habitat, the Center for Large Landscape Conservation launched the Animal Road Crossing (ARC) International Wildlife Crossing Infrastructure Design Competition. Michael Van Valkenburgh Associates, Inc. and HNTB won the competition with their 'Hypar-nature' Wildlife Bridge, a single-span design that can be constructed of prefabricated concrete pieces.
Background:
The goal of the Animal Road Crossing (ARC) International Wildlife Crossing Infrastructure Design Competition was to identify a design for a wildlife bridge in West Vail Pass, Colorado, that improves safety for humans and wildlife, supports local ecosystems, and incorporates natural system design while bringing down the cost of construction from the estimated $12 million needed with conventional methods.
The 2010 competition attracted 36 submissions from 100 international firms. The competition's five-member jury unanimously selected "Hypar-nature," stating that the proposal "is not only eminently possible; it has the capacity to transform what we think of as possible."
'Hypar-nature' is a single-span design that proposes using prefabricated concrete pieces, which can easily be fastened together in a variety of widths to accommodate different wildlife and transportation needs.
Instead of simply providing a wood or concrete bridge, the design proposes extending woodlands over the bridge itself. The vaulted design would create distinct landscape bands (forest, meadow, shrub), providing multiple habitat corridors that would enable a large cross section of species to safely cross.
The design team proposed creating a modular and cost-effective system of hyperbolic paraboloid forms that allows for minimal site disturbance and easy production, assembly, and deployment. The forms could expand or adapt as migration pressures dictate.
Demonstrates these solutions:
Includes greenways and wildlife corridors to support plant and animal migration and relocation.
Incorporates green infrastructure into all new and existing urban and suburban development.
Prioritizes preservation and enhancement of tree canopy.
Follows best practices for planting and maintenance of all trees and vegetation.
Protects, expands, and restores natural systems.
Incorporates water conservation and water reuse technologies.