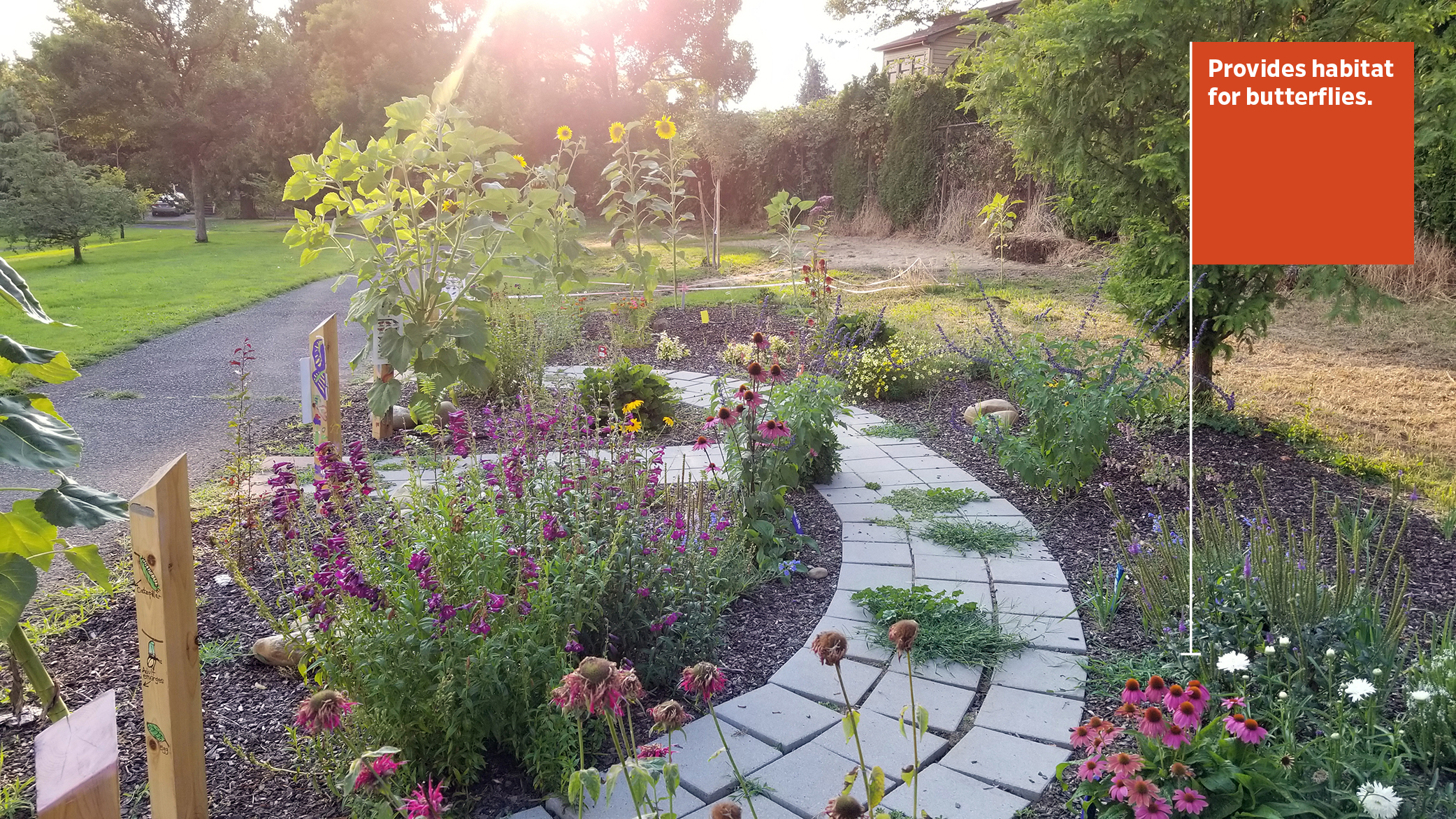 Natural Systems
Green Schoolyards
If schools have green space, too often the spaces provide few benefits for wildlife or environmental education opportunities for children. In Vancouver, Washington, the landscape architect with nature+play designs partnered with school leaders, students, and volunteers to design native plant gardens, meadows, and tree groves that not only support pollinators, such as butterflies, bees, and birds, but also help manage stormwater. Children of all ages participated in the design and construction of the outdoor learning spaces.
Background:
According to the Children & Nature Network, the greening of schoolyards results in "nature-filled school grounds where children and families play and learn outdoors to enhance community health."
In Vancouver, a city of 183,000, both new and existing schools are transforming their schoolyards into educational green spaces. With the passage of capital facilities bond measures in two major school districts in the area, new schools now have the funds to create green spaces for outdoor play, learning, and wellness. Existing schools have been leveraging donations and volunteers to create new ecological learning landscapes.
The Washington State Office of Superintendent of Public Instruction's Sustainable Schools Protocol sets standards and targets for green building capital projects. The protocol guides school campus environmental improvements in the areas of green stormwater management, outdoor learning spaces, and gardens. There are also local codes that include additional stormwater and urban tree canopy requirements.
For projects at both new and existing schools, landscape architect Jane Tesner Kleiner, ASLA, principal at nature+play designs, guided school district staff, principals, and teachers through the entire process of meeting these regulatory requirements. She created master plans and designs for sustainable landscape improvements and then guided district staff on how to construct and maintain the new projects. Kleiner simplified the process by making drawings of features and walking administrators through the approvals and plant procurement process.
At Hough Elementary School, nature+play designs volunteered to help the school create a master plan and write grants to finance a series of projects over seven years, including a butterfly garden, tree house-themed accessible playground, outdoor classroom, nature play areas, discovery zone, and sensory alphabet garden. According to Kleiner, "students may live in apartments, foster care, or are homeless, so school is a consistent 'backyard' for them to call their own."
And at Ogden Elementary School, nature+play designs partnered with the district team to plan and design the campus as an ecosystem in the center of town, with a fir forest, oak prairie, stormwater basin, and butterfly gardens. "Lots of wildlife call the school home, which is rare in the center of a community," Kleiner states.
Local grants and fundraising at the existing schools made installation of these projects possible. Community gardening and habitat experts contributed guidance on how to incorporate native plants where feasible as well as locally-sourced seeds and plants.
Many of the projects were low-to-zero cost because plants and materials were donated and volunteers provided their time. Students also helped plan, design, install, and maintain the new gardens and meadows.
Teachers now have a hands-on project-based learning lab right out their door. Sustainable landscape improvements have been integrated into environmental education curricula. Kindergartners use the new butterfly garden to study the lifecycle and habitat of butterflies. First and second graders study animals in their habitats. Middle school and high school students learn about soil composition and ecology, how to inventory species and propagate native plants, and mentor younger students in projects like the construction of mason bee houses.
For Kleiner, "these projects are incredibly beneficial, as they bring nature to students. When kids are exposed to nature every day, they are more likely to feel comfortable around it; become curious and wonder about what they are seeing, hearing, experiencing; and lose fears about bugs, dirt, and animals."
Demonstrates these solutions:
Provide dedicated funding for green stormwater infrastructure.
Incentivize planting of locally/regionally appropriate and biodiversity-supporting vegetation.
Prioritize retention and expansion of green space; address inequities in access to open space and recreation.