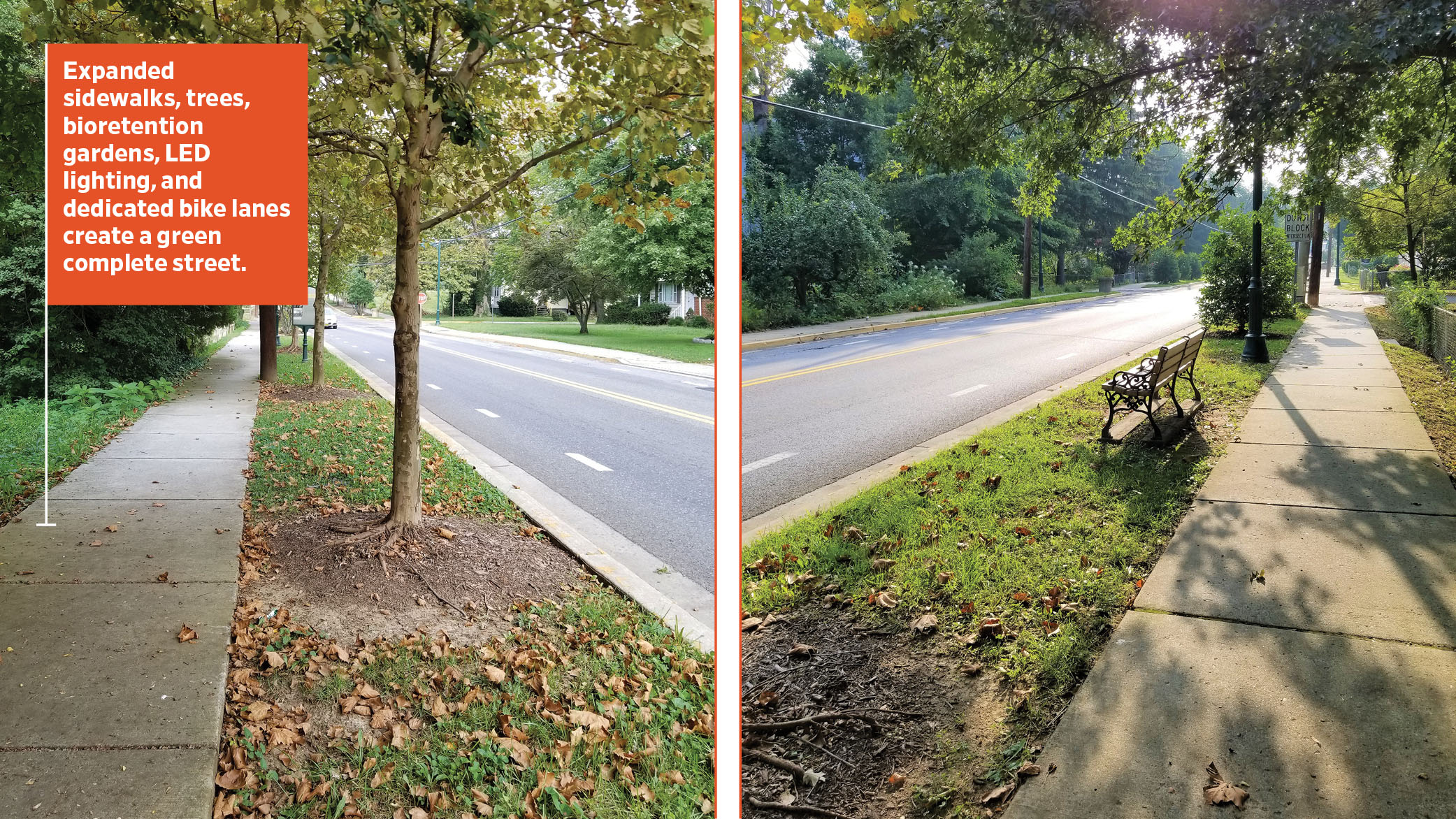 Transportation
Edmonston Green Street Project
Edmonston, Maryland | Neighborhood Design Center
In the early 2000s, Edmonston, a small town in Maryland, suffered from some of the worst flooding in its history. One year, 56 homes were under water. But the flooding wasn't caused by the Anacostia River overflowing its banks—it was caused by ineffective water management infrastructure. An abundance of impervious pavement and lack of adequate water management infrastructure overwhelmed the small town year after year. With financial support from local and federal governments, Edmonston constructed one of the first green complete streets in the country. Decatur Avenue features 100 percent LED lighting, Americans with Disabilities Act (ADA)-compliant sidewalks, and dedicated bike lanes, and is lined with bioretention gardens and tree boxes that capture and filter stormwater runoff, decreasing flooding and pollution headed into the nearby Anacostia.
Background:
Edmonston, Maryland, is a small, suburban town located on the northeast branch of the Anacostia River, just outside Washington, D.C. With a population of 1,500 from diverse backgrounds—about half are Latinx, and almost 40 percent African American—Edmonston has a long and proud history of equity and environmental justice.
When the time came for Decatur Avenue, a main throughway in Edmonston, to be reconstructed, the town government decided it needed to take responsibility, fix the stormwater management system, and create a sustainable street.
Edmonston's green street cost some $1.3 million and took two to three years to complete. Invasive trees and plants were replaced by native species like local magnolia, red maple, and switchgrass. Energy-intensive streetlights were replaced with 100 percent LED lighting to increase visibility and decrease energy consumption. Sidewalks were widened and brought up to ADA standards, and dedicated bike lanes were created to make the street safer and more accessible for pedestrians, cyclists, and motorists.
The street is lined with bioretention gardens and tree boxes. Curb cuts divert stormwater runoff into these natural systems where pollutants can be captured before passing into the sewer system and eventually the Anacostia River. It also decentralizes where runoff gathers, preventing flooding.
Demonstrates these solutions:
Provides equitable access to transportation options, including safe, connected pedestrian, bicycle, and transit routes.
Applies technologies and design strategies to achieve net-zero-carbon streets.
Incorporates green infrastructure.
Promotes regional transportation planning and development.
Uses smart growth approaches to decrease energy use and promote resilience.
Incorporates clean energy and energy efficiency solutions in local planning.